9. How do you solve a problem like Derrida?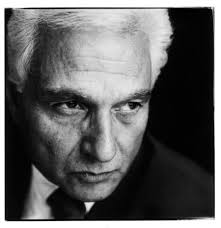 Derrida: Why does Derrida 'deconstruct' things?
Derrida was motivated primarily by political and ethical reasons. From a linguistic perspective he was interested in being aware of the histories and bases and implications of the language we use, for much of what we say can have meanings beyond what we may be aware of. He raised awareness of this by closely scrutinising the text to discover what else it may be saying. What may be seen as literal may indeed be a caged metaphor, with a whole world of meaning possible. And what may be discovered, at least this is his premise, is that within the thesis there is also the antithesis.
So when he looks at something such as forgiveness, he discovers a paradox: to forgive someone means that the deed was forgivable. But if that deed was forgivable, then it was hardly worth forgiving them in the first place. Rather, what truly deserves forgiveness is the truly unforgivable act. Yet this act is so heinous that it, by definition, is unforgivable. Uncovering such a paradox should then change the way we see something such as forgiveness – viewing the small forgiveness as but a picture of the big act that truly requires forgiveness.
Forgiveness and justice (and indeed his whole project), are ultimately impossible things. Yet they occur daily, and should be pursued, but must be more properly understood. For Derrida then, deconstruction is no idle task, for it reshapes our ethics, pulling them apart, like the reductionists of long ago, helping us see what is at the heart of them. His hope is then a real sincerity in the way we relate, and a decrease in dogmatism.
From my brief reading about Derrida, it seems that although unique, he was influenced by Kierkegaard, Roland Barthes, and even bears some semblance to the psychoanalysts.
It should also be noted that Derrida sees language as iteratible, that is, easily transplanted and 'emic' meaning thence lost. Thus there is no sanctity in language as such, the deconstructor is free to pull it apart as much as one will.
i should add, i've been reading
On Cosmopolitanism and Forgiveness
to help me think through this. more on that book in particular laterthis is part of a series. check here for the others uploaded.
Labels: Derrida, philosophy